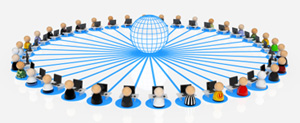 LeadAds proprietary tracking technology, industry leading expertise, and access to exclusive campaigns, allow publishers to more effectively monetize their online efforts with a trusted partner.
We support Cost-Per-Action (CPA), Cost-Per-Click (CPC), Cost-Per-Lead (CPL) , Cost-Per-View (CPV) campaigns through display, search and social media.
We use our internal capabilities to guarantee the quality and effectiveness of every campaign — ensuring the best results possible.
Affiliate Marketing for Publishers
These days a Publisher can be any type of Web site from a well known destination that offers consumers a range of shopping opportunities to a blogger that's just beginning to attract an audience. Regardless of what type of site you have as you build a loyal following you have an opportunity to monetize your Web site and start earning rev-share!
Also called an affiliate, a publisher displays ads, text links, or product links from an advertiser in return for a commission when a sale is made or when a lead is acquired. The sale can also be tied to a specific action such as filling out a form or downloading a trial. LeadAds facilitates relationships between publishers and advertisers by providing the underlying technology that manages links, tracks results and commissions, and sends payments.
Start earning money from your Web site traffic and join the Leadads Network.
There is no fee to join!